Wolf Range is in a snit over Viking's use of Red knobs, and has filed a trademark infringement suit in federal court on November 16. Evidently Red knobs are proprietary to the cooking overlords in Madison and are the foundation of all of Wolf's success and its sole point of differentiation.
That makes us sad.
Here are the Wolf knobs.

We can't find an image of the offending Viking knob…….but we assume they are Red, and not Blue or Argyle.
Who might be next, as Wolf marches across our industry, kicking butt and taking names, and reclaiming their rightful place in the panthion of appliance innovators?
Could it be Capital Cooking?

Or a bunch of dead engineers responsible for this O'Keefe and Merritt range?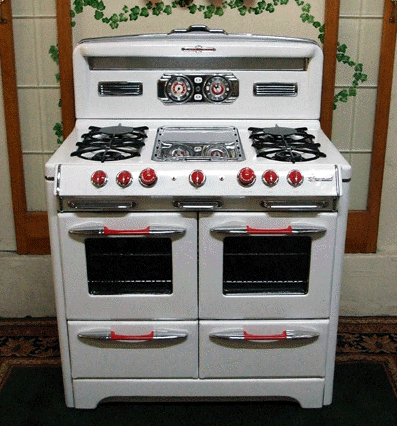 Or this Wedgewood

Or this even older use of red knobs on a steam engine?

Or this dead comedian who for decades performed under Wolf's trademark?

Wolf's choice of Red for its knobs was a true breakthrough; a breathtaking creative spark. We at ApplianceAdvisor.com believe they should be awarded every penny that they deserve.